Halloween Buffalo Chicken Skillet Dip
via Tasty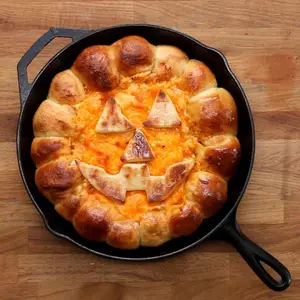 INGREDIENTS
2 cups chicken, cooked and shredded
8 oz cream cheese, softened
½ cup monterey jack cheese
⅔ cup cheddar cheese
½ cup buffalo sauce
½ cup ranch dressing
2 tubes refrigerated pizza dough
4 oz cheddar cheese, block of cheese, cubed
2 tablespoons butter, melted



DIRECTIONS

Preheat oven to 400°F (200°C).
In a bowl, combine chicken, cream cheese, monterey jack, cheddar, buffalo sauce, and ranch.
On a lightly floured surface, roll out 1 tube of pizza dough. Cut out triangles for eyes, and a mouth.
Bake for 12 minutes, or until the pieces are golden brown, slightly risen and cooked through.
Cut the remaining dough into squares, place a cube of cheese on each one, and roll into balls. Repeat with the other tube of pizza dough. Place in a ring around the edges of a greased oven-safe skillet or dish.
Fill the middle of the dish with the dip filling.
Bake for 35 minutes.
Coat all of the dough with melted butter. Place the dough face pieces on the dip.
Enjoy!
Pretzel Broomsticks
INGREDIENTS
4 string cheese sticks, or more as needed
12 pretzel sticks
1 leaf fresh spinach, cut into strips, or more as needed
DIRECTIONS


Step 1
Cut each string cheese stick into thirds. Snip the ends of each third into thin strings to look like a broom.


Step 2
Place a pretzel stick into each piece of string cheese to create the broom handle. Tie a spinach strip around the cheese.